SANS DIGITAL MobileSTOR MS4UT+B
Almost 4 years ago, I bought a Sans Digital MobileSTOR MS4UT+B four drive bay RAID tower.  Here's how it's stood up so far:
The reason I'm writing this article today, is because this past week was the first time one of my drives in the ARRAY failed.  To be clear, this is not a complaint.  ALL drives fail.  That's WHY I bought a RAID tower, so that when one eventually DOES fail, I have the redundancy in place to keep going while I get a replacement drive, with zero down time and zero data loss.
Before reading further, if you don't know what RAID is or a RAID tower, please click the link below for a straight-forward explanation:
When I bought the tower almost 4 years ago (this model is not available for sale anymore), I also bought 4 of these drives.  Click the image to see it on Amazon.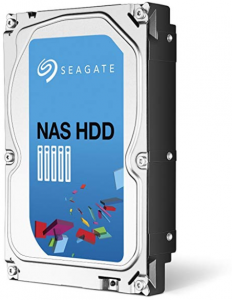 for $149.99 each in December 2014.  They were the cheapest 4TB drives I could find at that time.
All 4 have been running 24/7 until 2018-10-29, when one of them finally failed.  To be honest, I expected the first failure to be years ago, considering my track record of at least 1 failed drive a year.  I bought the cheapest drives I could find too, so I expected more frequent failures.  The front panel of the RAID tower indicated that my drive #3 had died.
The computer was completely unaware of the failure.  This is a good thing.  That means the RAID tower's seamless drive failure was working.  I immediately ordered a new, replacement drive.  I ordered the cheapest, 4TB drive I could find.  Why?  Because reliability of individual drives is not all that important when you have them in a RAID tower.  The redundancy of the whole system dramatically improves overall reliability, even when using low reliability drives.  I should also point out that just because a drive is inexpensive, doesn't mean it's also low reliability.
Here's the drive I bought in late October 2018 for $79.99… nearly half the cost from 4 years earlier.  Click the image to see it on Amazon.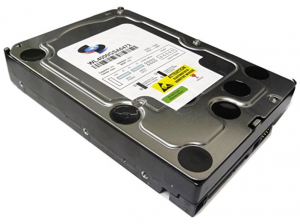 What did I do?
When it arrived 3 days later, without shutting anything down, I opened the front panel of my RAID tower, pulled out the bad drive (with the whole system still on and running), unscrewed the 2 screws holding the handle onto the bad drive, screwed them and the handle onto the new drive, and plugged it into the RAID tower.
What did the RAID tower do?
The RAID tower immediately recognized the new drive and started replicating data to it.
What did the PC do?
My PC never knew anything ever happened.  As far as it was concerned, there was a working 12TB drive that it continued to actively use throughout the whole process.  There was never any downtime.
How long did it take?
Swapping the drive took about 5 minutes or less.  The replication, however, began on the night of Tuesday, October 30th.  It was still replicating when I left the PC on Saturday night, November 3rd.  However, Sunday morning, when I got back to it, it had finally finished.  So, it took it about FOUR DAYS to complete the replication.  Much longer than I thought.  I figured it would take between a couple hours up to maybe 1 day.
What does this mean?
It means that my data was vulnerable to disaster via a SECOND drive failure from the moment the drive went bad on Saturday, October 27th, through when the data was finally, fully replicated onto the new drive somewhere between the night of Saturday 11/3 and the morning of Sunday, 11/4… a total of a few hours more than 1 solid week.
If any other drive had died during that time, my 10TB of data would have been hosed.
The good news is that if I were NOT using a RAID tower, I'd be in that same risk ALL THE TIME!  I was only at risk for 7 days.  The BAD news (for YOU) if you're not using RAID, you're at that risk 100% of the time.
Conclusion:
This RAID tower performed as designed and is still performing.  The vulnerable replication period is much longer than I expected.  But, in the end, it all worked.  This is the first drive failure I've had where I didn't lose a single bit of data.
My recommendations:
Whether you need speed or reliability, you SHOULD be using a RAID array.  I highly recommend buying a RAID tower and let it handle the complexities of configuring the system.  Software RAID solutions are available, but they are much less reliable and consume resources on your computer, slowing you down.  With an external hardware solution, it's literally just plug and play, like any normal, single external drive.  But with the capacity, speed, and reliability of a RAID solution.  RAID towers can be found for under $100 and there's no upper limit to how much you can spend on one.
So:
Buy a RAID tower.
Have a local backup using a low cost, external USB hard drive of equal capacity as your full RAID array's configuration.
Have a cloud backup of your data too, AND MAKE DARN SURE IT'S ENCRYPTED ON YOUR END BEFORE BACKING UP!!!

There are a lot of decentralized, peer-to-peer, cloud backup services coming online like:

Sia
FileCoin
StorJ
and others.  None of them are great solutions as of this writing YET!  But that's changing.  Keep an eye on them and read EDUCATED reviews of them.  That includes keeping an eye on my blog because I'm watching them with intense interest, in addition to testing them myself.  I'll ring the alarm bell when it's time to jump on.  They WILL BE the ultimate backup solution.