Amazingly, there are grown adults in first world countries that believe the earth is flat.  They frequently post videos "proving" their B.S., military grade stupidity, thinking they've outsmarted the rest of the world.  It's amazing and sad to see.  Here's yet another one that I'll be debunking here.  Although, MUCH of what they provide lacks source material, so we don't know what they're showing.
Debunking this video:
h t t p s : / / w w w . y o u t u b e . c o m / w a t c h ? v = G 8 f J N _ 6 N H h 4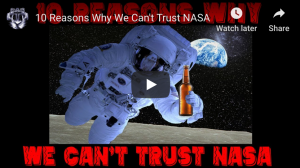 at 00:12 seconds in, showing 2 images of the space jump, one showing a label on the capsule and one not.
You have to provide sources. Show us the video. Is one from a rendering or a test at a different time?
at 00:22 seconds in, an astronaut suddenly appearing from nowhere: Again, CONTEXT MATTERS! Was this just NASA's broadcast switching from one recording to another? It's CRITICAL for you to show us the source material, otherwise, there's no way to confirm or debunk.
car in space: No argument is actually given, therefore, there's nothing to refute.
1:04, showing blockiness around the earth in a photo from the moon.
I'm surprised the video maker knows enough about a paint program to increase the contrast, but not enough to know that this is a VERY WELL KNOWN artifact of lossy image compression. Also, your video is at 720×480… EXTREMELY LOW RES. Why?

Picture of full earth over moon horizon: AGAIN DUDE! SOURCE MATERIAL!!!! Where the HELL did you get this image from? Is it claimed to be authentic or is it an artists work that you found on the internet???
https://epic.gsfc.nasa.gov/epic-galleries/2016/solar_eclipse/full/168_2016068234208.png image with tilted box: More than likely they rotated the image so the north & south pole line up for your viewing pleasure. There's no up or down in space. Neither the satellite nor its camera are necessarily oriented perfectly with the earth's axis of rotation with the top of the camera perfectly lined up with true, earth north. I moved the levels down even MORE in my local paint program, and you know what I found? STARS!

Also, notice in both YOUR and MY level modifications, there are horizontal bands that line up with the rotated box frame?  Those are artifacts of the CCD.  A fake wouldn't have these and certainly wouldn't hide them in low levels.
If these were fake, there'd be no reason to have a non black background, no reason to rotate it (just manufacture it in the orientation you want), and no need to put stars in there far below the viewer's ability to see, hidden in the very low gray scales. All of your "evidence" is evidence of it being real. Here's a link to the gallery it came from: https://epic.gsfc.nasa.gov/galleries/2016/solar_eclipse

1:22 Saturn's moon Enceladus: What are you trying to prove here? Again, you've revealed more detail of the surface of the moon that wasn't visible in the original image and revealed stars that weren't visible in the original image. Why hide this in a fake? You're providing evidence that it's real.
1:29 Green edge between moon and earth. Again, if it were fake, they'd have it perfect with no artifacts. This is likely an artifact of the CCD on the camera or the lenses. Everyone has seen these ghosting effects in cameras.
1:34 The earth and "copied" clouds. OMG! We've been debunking this one over and over and over for YEARS! That's NOT AN IMAGE THAT NASA CLAIMS IS REAL!!! That's the original iPhone wallpaper. There are multiple articles on how the artist created the image. Again, I've debunked this one so often, I write a blog post about it here: Does NASA fake photos of Earth?
1:47 yet AGAIN… JPEG COMPRESSION ARTIFACTS!!! How many DECADES do you want us to explain this to you before you finally understand what everyone else already understands?
1:58 Apollo 15 image. Ghosting on analog film is a VERY WELL known phenomenon. How many examples of this do you have in this video???
2:13, yet again, more JPEG artifacts!
Poor lense, bandwidth, & compression problems in ISS footage.
OK, I've spent enough of my free time just on the first 3 minutes and 29 seconds of this 20 minute video… 13 innuendos in all.  I've debunked 100% of everything shown up to that point, though no proofs were shown of any claims, only innuendos, but I debunked those.  I never saw a top 10 count in that time segment though.  Maybe it's later?  Maybe I'll get back to it when I've got more time to waste.  But for now, I've got a life to get back to.