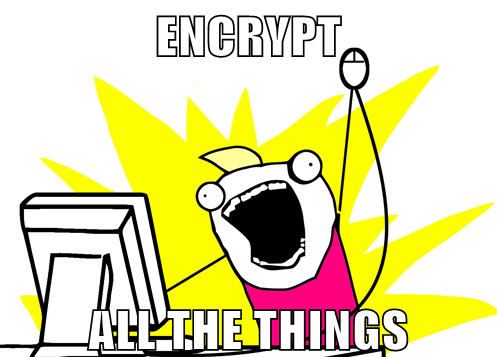 So, Microsoft Windows 10 sends your private data to Microsoft (E-Mail and private files in private folders (read the EULA if you don't believe me), your employer is snooping on your web traffic at work, local hackers are packet sniffing your web traffic at the coffee shop, your neighbors are hacking your home wi-fi, cloud providers have access to your files, thiefs have access to everything on your laptop or phone when you lose them in public, and don't even get me started on the NSA and all the things THEY have access to (hint:  It's everything, including your phone calls), not to mention your ISPs and rogue, tin-pot tyrannical dictatorship governments around the world.
You want your data to stay out of their hands and eyes?  Then you'd better put on your foil hat, pull up a chair, and pay attention to this how-to on encrypting all your data and all your communications (including phone calls!) and some best practices thrown in for good measure.
From a high level, here are the things we'll be encrypting.  I'll break them up into separate articles, because it would be quite a lot to take in all at once.  I'll be writing these articles over the next couple of weeks, so check back here to see this topic list change from black text to hot links to the published articles.
PC

Mobile

E-Mail

Files

Device

SD Card

Location

Web & Cloud

How to protect yourself at work

Why it's proper to assume the worst
Thank you for sharing this article.  See this image?
You'll find actual working versions of them at the top and bottom of this article. Please click the appropriate buttons in it to let your friends know about this article.