I know!  I know!  "How We Know Satellites Exist (and the Earth is Round)" sounds like a pointless title, but believe it or not, there's a growing number of vocal flat earthers on the internet.  One of their arguments is that outer space and satellites don't exist.  They believe we live on a flat plane under a dome.  No!  Seriously!  They actually believe that!  When you ask them how can that be if we have satellite TV and satellite dishes on our homes, that work and ONLY when pointed at a specific place in a clear sky, they give easily disproven responses.  I'll list those here with the obvious explanations of why those are false, and I'll show some images of satellite dishes in my own neighborhood, where they're pointed, and some online tools so you can see where to point your own dishes.  In other words, you can confirm this YOURSELF without the word of scientists or anyone at NASA.  (Flat earthers reject anything from scientists and NASA and governments.  They actually believe they're all lying and working together to trick us all, spending trillions of dollars, for some unknown reason, into believing the earth is something other than it is.)
But first, let's easily debunk their responses to the question of why satellite dishes work if there are no satellites:
Towers
Obviously, it can't be towers for the following reasons:
Dishes are pointed pretty high and you'd definitely see a transmission tower.  It would have to be very near by, very large, and impossible to not see.
Towers would be extremely local objects.  Dishes north of them would point south.  Dishes south of them would point north.  There are NO dishes in the northern hemisphere that point NORTH to geosynchronous satellites.
Mountains with towers
Exact same response as the towers answer.
Weather balloons
Weather balloons cannot stay in one place.  They move with the wind.  There's no way a stationary dish could stay pointed to any.  There's also the obvious pointing problem as with the towers.  If you're south of one, you'd have to point your dish north and NO dishes in the northern hemisphere are pointed north that are pointing to geosynchronous satellites.
Planes
Planes cannot stay still.  Also, you have the same pointing issue as all of the above.  ALL DISHES in the northern hemisphere that point to geosynchronous satellites point south.  ALL OF THEM!
Helicopters
While helicopters CAN stay in one place, they can't stay there very long.  They are also inside the earth's atmosphere, making them very low in comparison to satellites.  You'd also have the same pointing problem as all of the items above… and dishes south of one of the helicopters would have to point north AND NONE in the northern hemisphere do that point to geosynchronous satellites.  And could you imagine the logistics and outrageously expensive costs to keep hundreds of thousands of helicopters in the air 24/7 across multiple continents AND the oceans (ocean liners use satellite TV too!)  And this would be impossible to hide from ANYONE on the ground (or water) from seeing them constantly taking off and landing for refueling and maintenance and the number of helicopters needed to pull off such a pointless exercise would cover our skies and there would literally be hundreds, if not THOUSANDS of helicopters falling out of the skies every day due to mechanical and weather problems.
Here are some pictures of satellite dishes in my own neighborhood
I've drawn lines to roughly (very roughly) where they're pointing.  I'm pretty much just eye-balling it.   Note that the houses on the left are north-east of the road.  The road runs from NW to SE.  The top picture is facing south-east.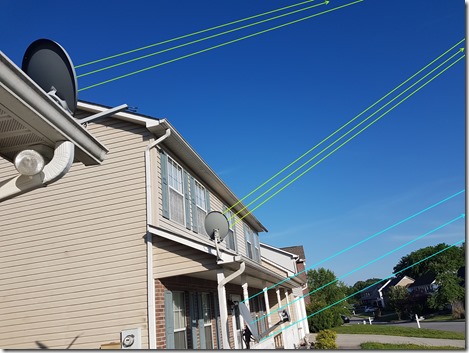 All these dishes point in a generally southerly direction.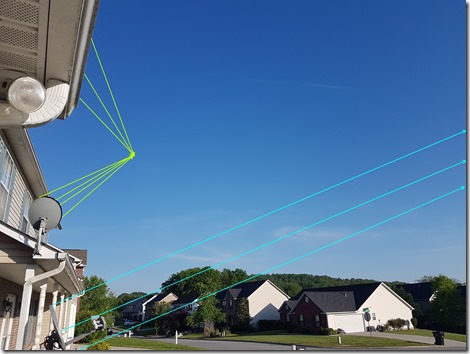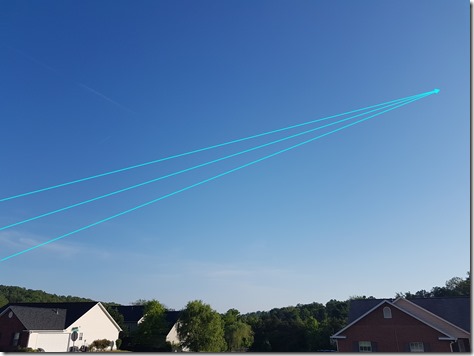 Below is a 3D rendering of my and my neighbor's house.  The satellite dishes from the photos above are pictured below with their general directions drawn, by me, from my rough eye-balling of where they appear to be pointing.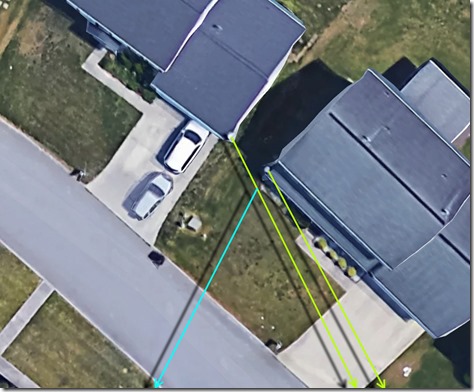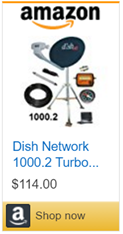 Below is an online tool to help you determine how to point your own dish.  You enter your address, and it will show you a Google map and a pointer you can move to where your dish is.  You select the satellite you want to point to, and it will draw a line showing where to point your dish.  I chose the Dish Network satellite and it drew a line from the point where I showed it my own dish was.  As you can see, it calculates where to point my dish and that my dish is, in fact, pointing in that direction.  Remember, the image above is my rough guesstimate from looking at the dishes from my driveway.  I used no instruments to test the EXACT directions for the image above.  Below is the exact direction it should be pointing, and certainly is.
http://www.dishpointer.com/ is the site where you can try it out yourself.  (Flat earthers claim you should not believe anything you can't test yourself!)  Note that you can do these calculations yourself, with pen and paper given the claims of the size and shape of the earth, where you are on it, and the location of the geosynchronous satellite, if, for some reason, you think this website is trying to trick you.  YOU can do the calculations yourself.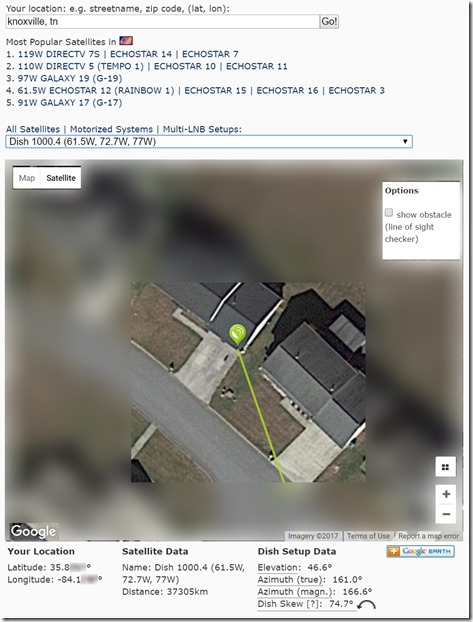 I do, indeed pick up a signal when pointed this way and I do indeed lose the signal when I move the dish just a little bit.
You can zoom out of this view with their tool and move the point anywhere on the map.  It will always point south if you're in the northern hemisphere.
Feel free to independently verify this yourself.  Visit friends and family anywhere that have a satellite dish.  You'll see they're ALL pointing towards to south if you're in the northern hemisphere.  While there, use the http://www.dishpointer.com/ tool to confirm the dish alignment, or run your own calculations.
The ONLY possible explanation for this is that satellites do, in fact, exist.  Also, these calculations are using math for a ROUND earth!  And it WORKS.  If the earth were flat, NONE of this would work!