Moving to decentralized services and apps has recently become critically important if you want to maintain your sovereignty and your free speech, free from big-tech authoritarian censorship.
This is so important that I've dedicated my time to creating a hub for decentralized services and apps. I registered a domain name, secured it with an SSL certificated, and wrote an online, searchable database for anyone to access, listing dozens (and growing) of fully decentralized apps, DAPPs, and services, as well as some that aren't necessarily 100% decentralized, but useful nonetheless, plus a few companions services and apps that may not, themselves be decentralized, but support decentralization.
Without further ado, allow me to officially introduce…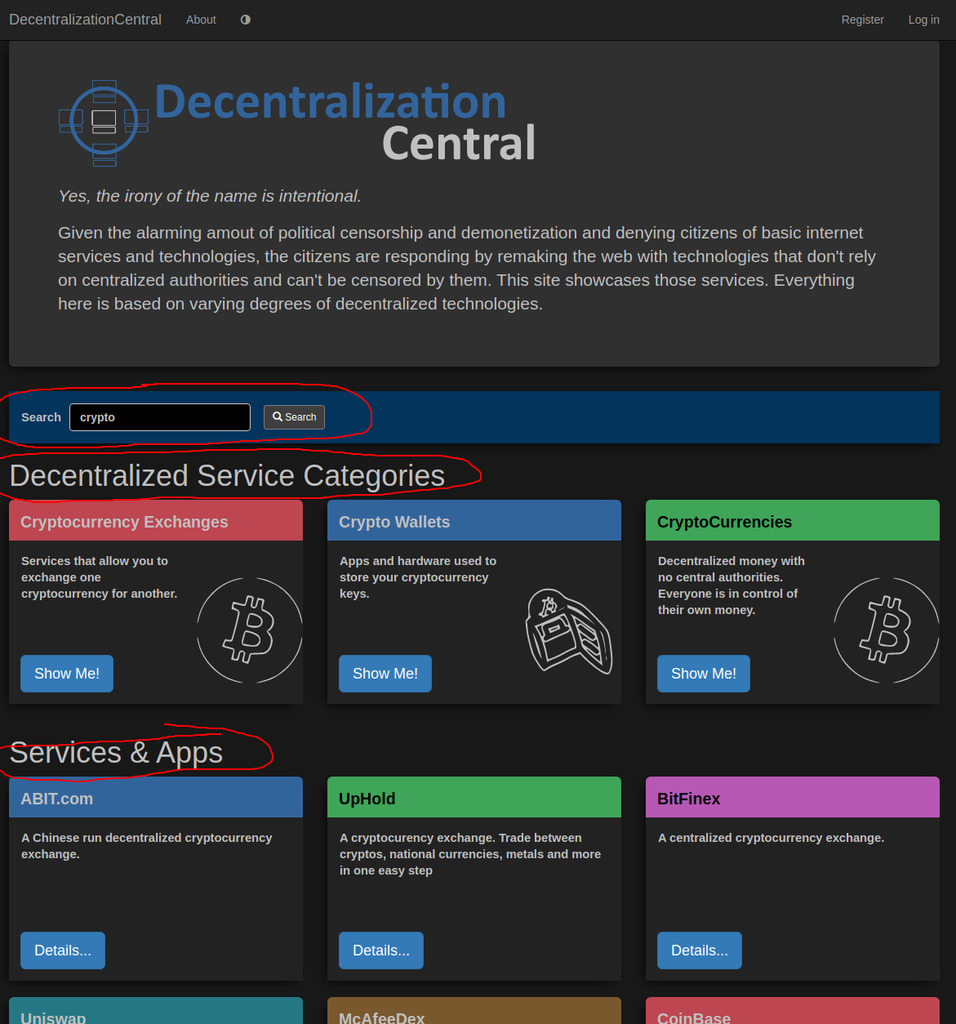 And yes, you can switch to light mode if you wish. Just click the dark/light button at the top of the page, next to "About".
The services are easily discoverable by browsing the dozen or so categories. Each category houses multiple services. You can also use the search bar to search for both services and categories of services.
Each service has its own informational page, describing the service and listing the decentralization features it has. Each feature is color coded. A fully decentralized service will have all decentralization features listed in green.
Below that is a list of icons representing the platforms the service is support on.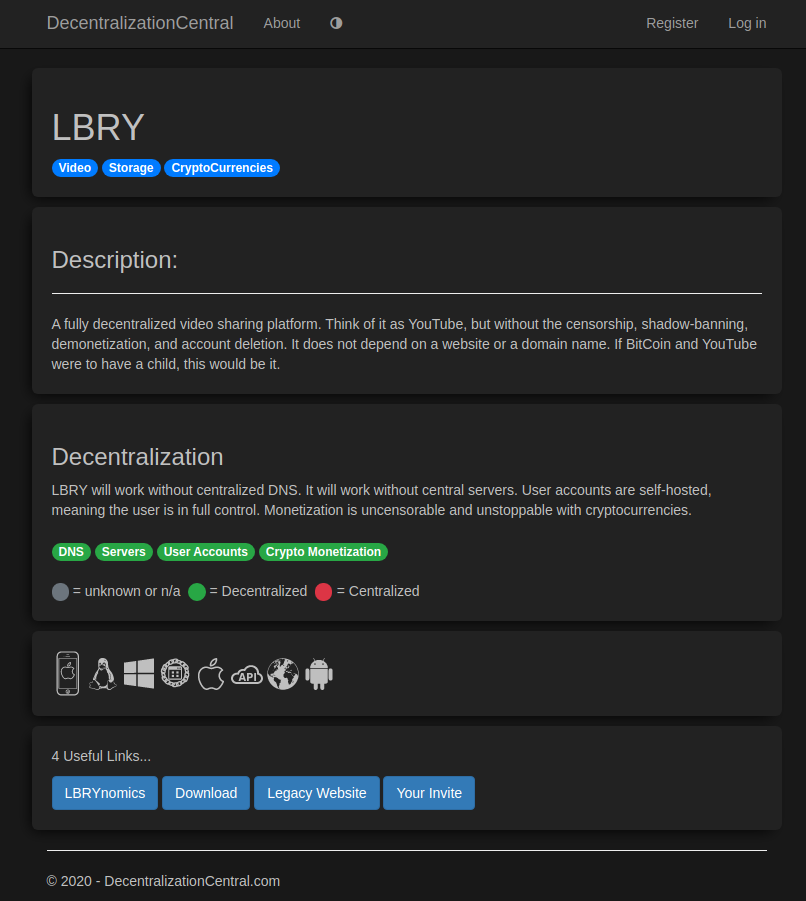 And below the list of platforms supported, is a list of useful links. Note that SOME links are not regular web links. We ARE, afterall, talking about the next, decentralized web, which has new kinds of links that require new kinds of browsers to support them. Almost all links are traditional links that will work with your traditional (legacy) browser.
The new kinds of links you may run into are:
IPFS (InterPlanetary File System)
dat:// (beaker browser)
TOR .onion links (for the TOR network)
Please peruse this database and try out any of the services that peak your interests. And check back often. I'm constantly updating it with more decentralized products and services and adding new features.
Things to expect in the near to mid-term future:
Video demonstrations
Blogs
More informative text for each service… more like a wiki page.
User editable pages plus users being able to add more services.
How-to articles to get you started into the world of decentralization.
Forums
The ultimate goal will be having a fully decentralized version of this website.
What are your thoughts on big tech censorship and how to protect yourself from it? What would be useful for YOU in those services and on the DecentralizationCentral.com website? Let us know in the comments.